NEWS | SOFTWARE | SHEET
Things to Remember while Constructing High-Rise Building
High-rise buildings are growing their numbers rapidly, and every country catches the latest trend with their best effort. Real estate developers are also started acquainting themselves about how to build the towering buildings safely, taking care of all needed aspects. Skyscrapers have now become a common view cities are offering to you. With the high rise building, construction challenges are also going high.
High-rise building has many complexities to consider, from soil testing to structural analysis. Checking the quality of materials is another important thing that ensures the building will stand for decades. New age materials have also been used by today's constructors to reduce the consumption of energy and water that make an approach towards the green building concept.
Constructors are generally stressing on four primary factors for designing such buildings – efficiency, consistency, durability and quality. The materials used in the construction work efficiently to make the buildings a visual treat as well as eco-efficient and durable.
Today's designers adopt a completely different way from the conventional process. Technology, innovation and quality remain the centre of the construction that allows planners and designers to choose the right product to serve the customers better.
Another biggest challenge which is being thrown at designers is the construction methodology. It generally follows the lines and levels of the construction site. Many a time, designers need to change the construction rules to fit the architectural design.
High-rise building follows the architectural façade system where facades are designed and engineered maintaining the high specifications such as air permeability, high water tightness, wind-load withstanding ability, the ability to stay unaffected in high deflection due to a seismic racking during an earth quake.
Building facade plays a very important role to keep the construction on the right track. New concepts are being incorporated to keep the process eco-friendly. Facades are no longer a passive filter between external and internal environment of the building; rather, they share a direct connection with the building physiques.
The major concern of constructing such building is maintaining the high-level of safety. Planners need to look after each matter very carefully, starting from an effective design to energy resources.
According to locations and elements, everything is crafted to meet the required standard of safety. Constructors adopt the new route while taking the best of the conventional process. Along with the basic considerable facts, the recent issues, such as embodied energy, global warming potential, resource use and waste generation, are gaining attention largely.
High-rise buildings are called those built constructions that are high more than the 75 feet above the lowest level the fire department level can access.
The greatest challenge lies in the engineering design in respect of pumping cold and hot water and supplying HVAC equipment. Major constructions always require greater attention from the builders to the designers. They always have come up with new promises that push the boundary brilliantly.
To get more details, click the following link: constructionweekonline.in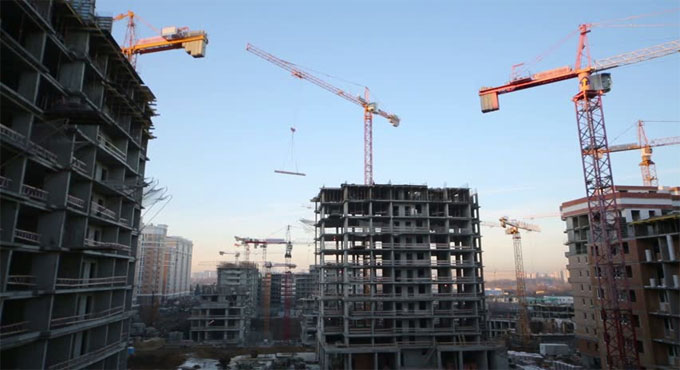 Image Courtesy: shutterstock.com