NEWS | SOFTWARE | SHEET
Download BBS - Bar Bending Schedule
Planning and saving bar bending schedule details on construction sites is one of the highly unproductive and boring activities. Creating lists of reinforcement steel bars along with size, quantity of bars, cutting length, weight of steel and a design illustrating the figure of the bar to be bent with all measurements and bend angle is an important work in each construction site that requires extreme quantity of time for input, data entry and computations.
Bar Bending Schedule is not an Excel or database supported solution. It is full independent software that excludes inefficient function of bar data entry/input, length computations and dimensions constraints enforcement.
BBS utilizes worldwide standard libraries for shape sketches (British Standard 1989, British Standard 8666:2005, American) along with their weight and full length computation formulas comprising incorrect shapes where information is revised according to the quantity of proportions of every shape.
Characteristics and Advantages:
Reduce bar waste through executing optimization method on batches and creating cut-list description to pursue while construction
Numerous Worldwide Standards Assistance: Conduct the reinforcement standard you would like to apply with British and American standards. Besides three out-of-the-box standards set to utilize, you can introduce different standards or even change current standards down to each aspect such as shape dimensions, full length computation function, dimensions constraints, etc…
WBS-supported hierarchy: Split your project on a Work Breakdown Structure of 4 levels where bar detailing is at level 4

Effective Import Tools: Import Work Breakdown Structure hierarchy and bar Material take-off information from Excel by means of a industrious designing that can align with several Excel templates
Automatic computation of bars lengths instantly as proportions, kind, magnitude and bend angle are inputted according to international standards
Revision Control: Introduce and make further revisions of bars once engineering drawings modify while safekeeping previous revisions for evidence and describing

Divide member (bar container) into sections because of release/construction objectives
Collect members (bar containers) into batches because of release/construction objectives and keep status at the batch level
Collect members (bar containers) into BBS schedules along with technology and keep status at the schedule level
Development Monitoring: Manage status of bars while construction period (designed, released, constructed, raised) at the bars container level (member or level 4 in the Work Breakdown Structure)

Transfer bar detailing to Enterprise Resource Planning control system, Excel, Extensible Markup Language or Hypertext Markup Language.
Building Information Modeling tagging: facility to link BIM tags to members (bar containers) and keep tag status
Incorporate with Enterprise Resource Planning control system with facility to connect to numerous steel bar shops
Incorporate with Enterprise Document Management system.
Download BBS - Bar Bending Schedule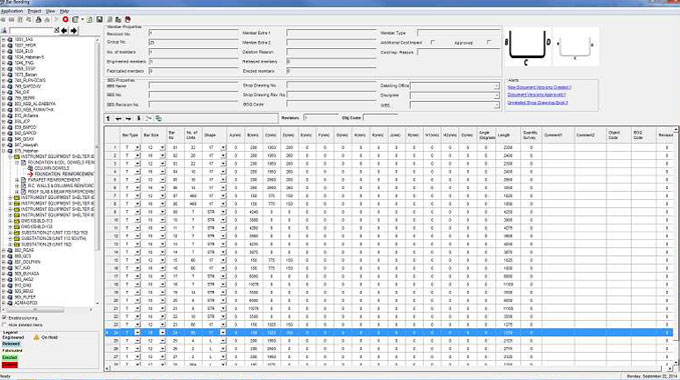 Image Courtesy: cctintl.com