NEWS | SOFTWARE | SHEET
HOOPS Exchange Technology will improve mobile CAD data
Tech Soft 3D, the trusted name in creating various development tools and 3D PDF solutions to the global engineering sectors, has included some new and exciting features to its HOOPS Exchange SDK technology by adding support for Apple's iOS and Google's Android other than supporting all major desktop and cloud operating systems along with Windows, Linux, and macOS.
Now developers and engineers will be able to generate their own 3D viewer with which they can get access to the complete 3D data and make perfect interaction with 3D models.
The preliminary release for this support for iOS and Android consists of industry-standard 3D CAD file formats like STEP, JT, PRC, IGES, Parasolid, IFC, and U3D. Given below the detailed lists :-
STEP — An ISO-standardized data exchange format.
JT — An open file format (Jupiter Tesselation) is an ISO-standardized 3D data format usually applied as a CAD interoperability option among NX, Creo/Pro-E, I-DEAS, Solid Edge, Catia, Microstation or Autodesk Inventor.
PRC — Product Representation Compact refers to a 3D file format that can be integrated into a 3D PDF.
IGES — It is a vendor-neutral file format recognized for data exchange between CAD systems and was initially an US Air Force ICAM project.
Parasolid — It is a geometry modeling kernel format and mostly recognized among important CAD tools (eg: ALLPLAN, Microstation, Siemens NX, Onshape, Shark FX, Vectorworks, etc).
IFC — is an ISO-standard intended for interoperability in the AEC BIM industry. It is defined as Industry Foundation Classes (IFC).
U3D — Universal 3d was developed by a consortium that comprised of Intel, Boeing, HP, Adobe, Bentley, et al. It belongs to a compressed file format standard for 3D and indigenously supported inside the PDF standard. U3D objects are inserted into PDF documents without any trouble and interactively visualized (spin model, etc) from within Acrobat Reader and other equivalent tools.
Supplimentary importers will be included as soon as the request is sent. It provides access to the perfect geometry available inside CAD files to a mobile application and tools like Apple's iPad Pro and iPhone, significantly extending capabilities for accepting this hardware in the flourishing engineering markets.
The complete lightweight and rapid modeling capabilities of HOOPS Exchange can be accessed for utilization along with B-Rep interrogation, exact measurements, point cloud projections, section computation and much more.
Now everyone will be capable of obtaining all the functionality required to produce a high-powered 3D viewer with full, powerful interrogation functionality on a mobile device with the aptitude to load CAD data devoid of processing it previously.
To avail more information of this Service Pack, visit the Developer Zone (docs.techsoft3d.com). To get the release note, click the link here (pages.techsoft3d.com) for an evaluation.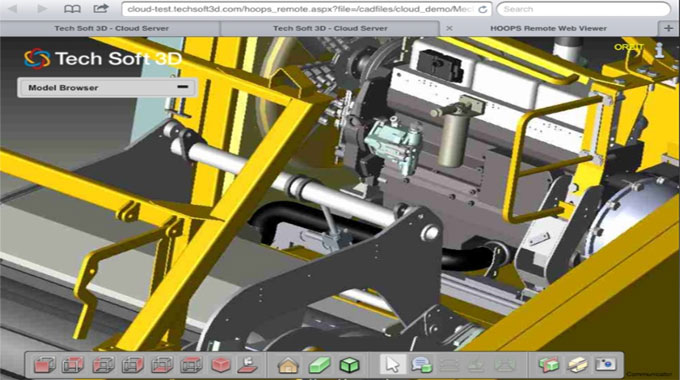 Article Source: http://architosh.com/